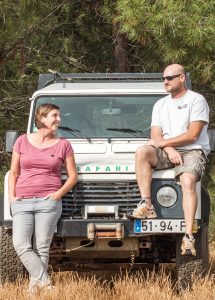 So what is our story ? How did we end up living here in the beautiful area of the western Algarve and how did we keep the dream alive.
I came here back in the year 2000. I had just started surfing and saw there was a small surf hostel based in Lagos. I came for two weeks and stayed six. In the course of searching surf spots we came quite often to the westcoast. One day driving to Arrifana and having driven up the steep hill from the Aljezur Lagos road I said to the surf instructor/driver "pull over mate, pull over please". I stepped out and just breathed in the view. I filled my lungs up on beauty and my heart skipped a beat and a big smile spread over my face. That view was and still is stunning and I knew right there and then I wanted to have a slice of this beauty for myself on a larger scale. Three years later, having rented my cottage in Cornwall and saved a few pennies, I hitched up a caravan and drove down here to see what I could make of myself.
I'm not going to say it has been easy (it most definitely hasn't been) but I would say it is worth it. I have learnt a lot about myself and this beautiful country I now reside in.
What I really desire to do is give that same magical experience I first felt when I looked out from the Arrifana road to the Monchique mountains in the far distance and give that same sense of wonder and feeling of beauty and magnificence to our clients and guests who come on any of our Tours or stay with us in any of our Holiday Homes.
This area is magical, hidden, a secret, a gem and it is waiting to be discovered, so why not allow us to show you some of the best bits some of the secret bits some of the lesser known bits.
This is our job now, to look after you to tell you about this area it's rich history its hidden gems. We love doing our job and after all these years of being here I haven't tired a bit of this area or showing it off to visitors.

As for Christin, she met a stranger sitting next to her on an airplane when she was flying between Chicago and Frankfurt. I think my enthusiasm for my new country of abode set her imagination racing and sparked a flame in her heart for adventure and a notion of a romantic existence. After showing her my photos (on my laptop) of my ruin in the countryside that I was renovating and the stunning beaches where I surfed by my lonely self and showing her adventure pictures of me blazing new routes in the wilds of Portugal by Jeep, I think she was hooked.
Let's just say one year later she was staying with me in the caravan helping to renovate the country cottage and learning to surf and map reading when we took off in the Portuguese Jeep (UMM) to make our own route through the unmapped interior. After a two week offroad holiday adventure she was here permanently and a few months later our first son was born. Our lives were changed forever and we have been together seventeen years already. Our second son was born 8 years after the first one and completed our family of four. They say time goes quickly when you are enjoying yourself. Our ten years has gone so fast, it feels like only a few weeks we have known one another.
So in brief this is who we are. I hope our small story ignites a passion in your heart or soul or imagination. I hope you get to come on one of our Tours, I'm pretty sure you'll like it.

Contact us